CREW
Our platform. Your touch.
SCADA Crew offers a wide range of vectorial library objects freely customizable, with the possibility of having transparences and gradients. Crew's versatility enables you to gain remarkable time-saving. Thanks to Crew, programming your application has never been easier, smart and looking amazing.
SCADA Crew is based on language WPF and .net. The supported Operating Systems are:
Windows XP Pro Service Pak 3
Windows 7 all versions (32/64 bit)
Windows 8.1 all versions (32/64 bit)
Windows 10 all versions (32/64 bit)
Complete redesign of both graphic layout and usability
Thanks to several customers' feedback, we made Crew interface catchy, aligning it with the latest graphic standards. From Crew 2.0 on, you will find several improvements and a special attention to every single detail. We introduced a new layout for objects property, that is split in a clearer and more intuitive way.Graphic objects library has been integrated in the editor toolbar. There is also the possibility to search objects and to customize the ones you would like to visualize in the toolbar libraries.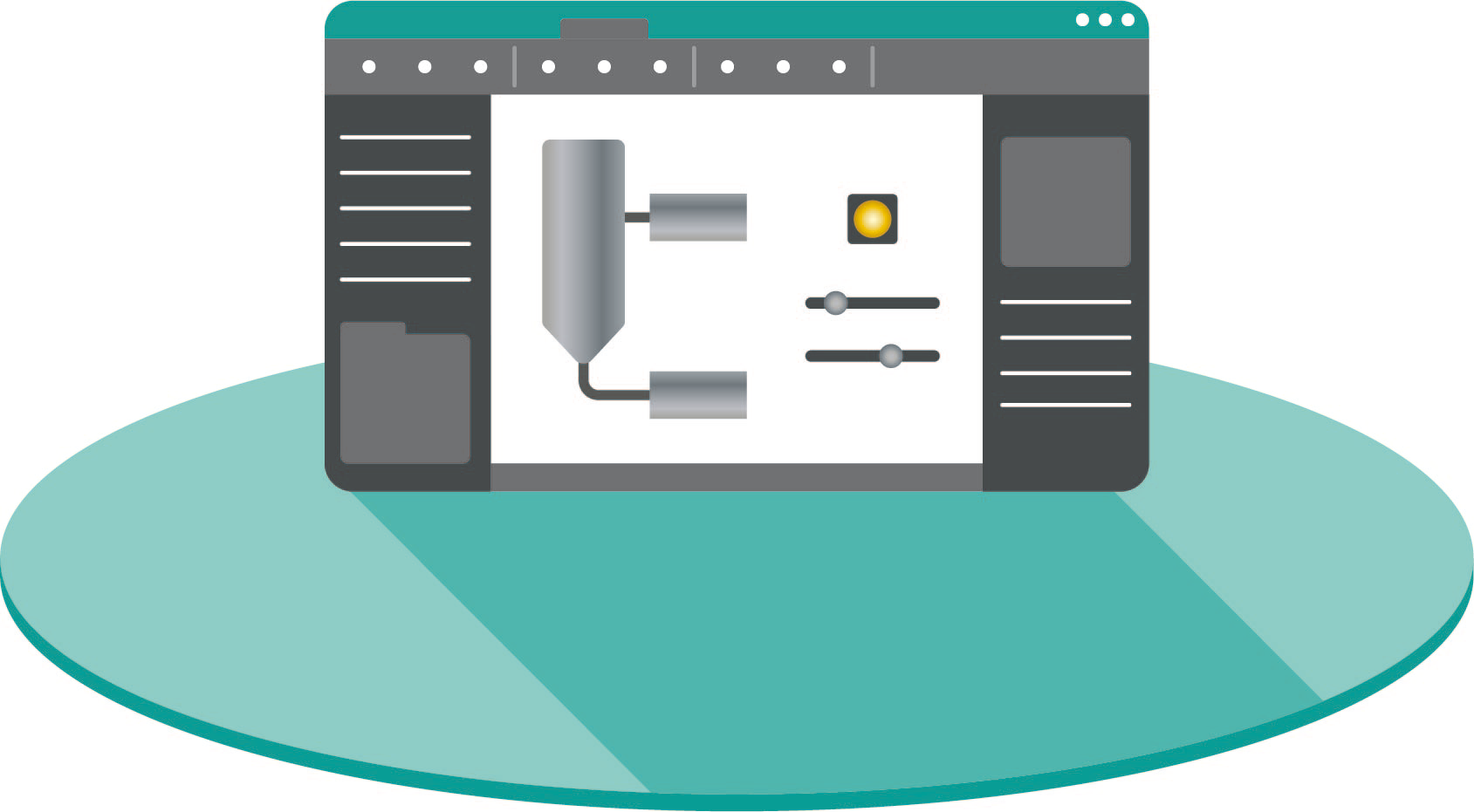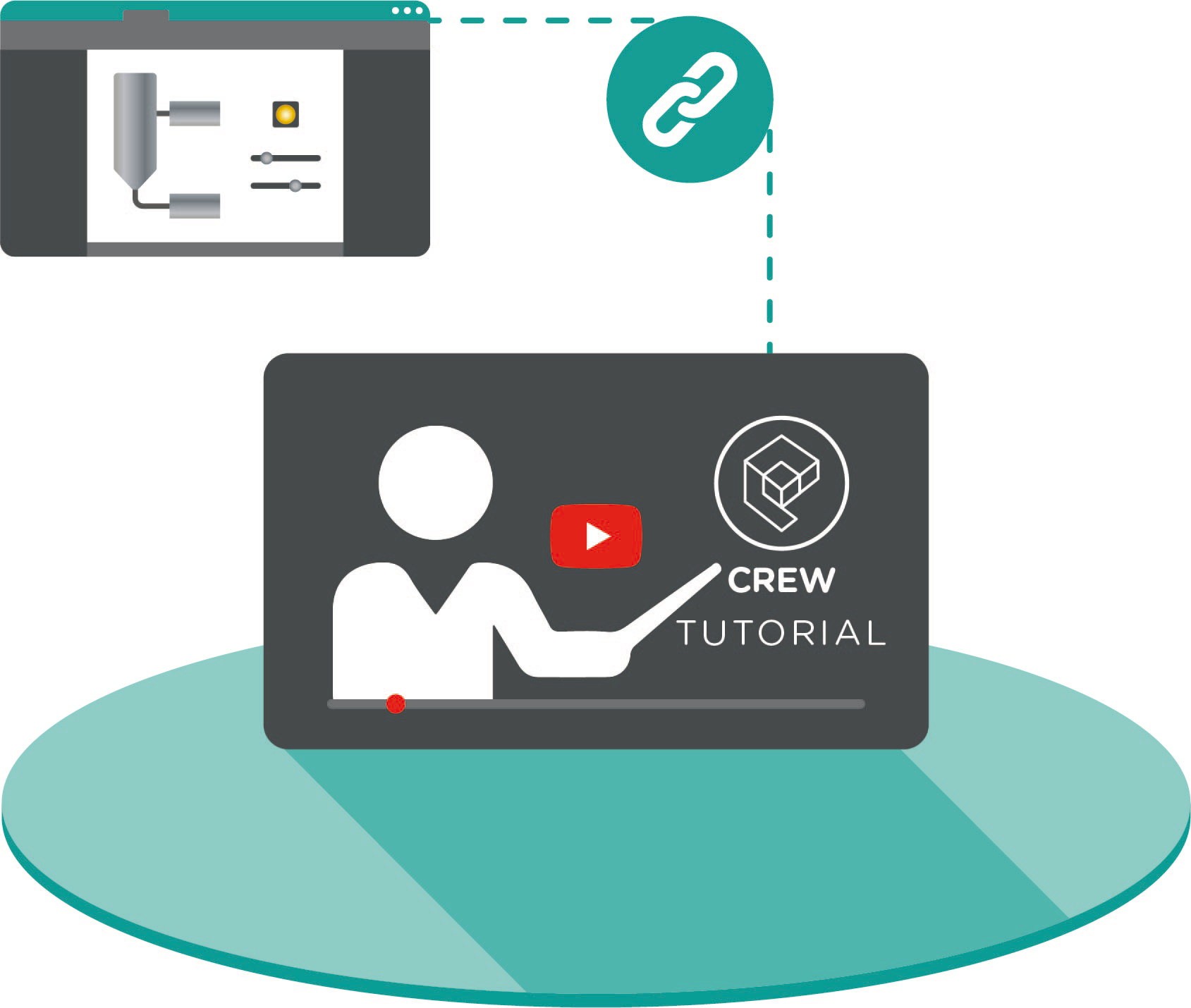 New link to our YouTube channel to watch our tutorial videos
When you need to clarify a functionality, you can directly access from Crew to our YouTube channel with several tutorial videos extremely explanatory.
OPC UA: New communication driver
We introduced the possibility to communicate through OPC UA standard, allowing an unlimited connectivity to both field devices and Cloud infrastructures. We are always careful to data security and communications, our OPC UA protocol automatically uses the highest security level of encryption available for the device to which it is connected.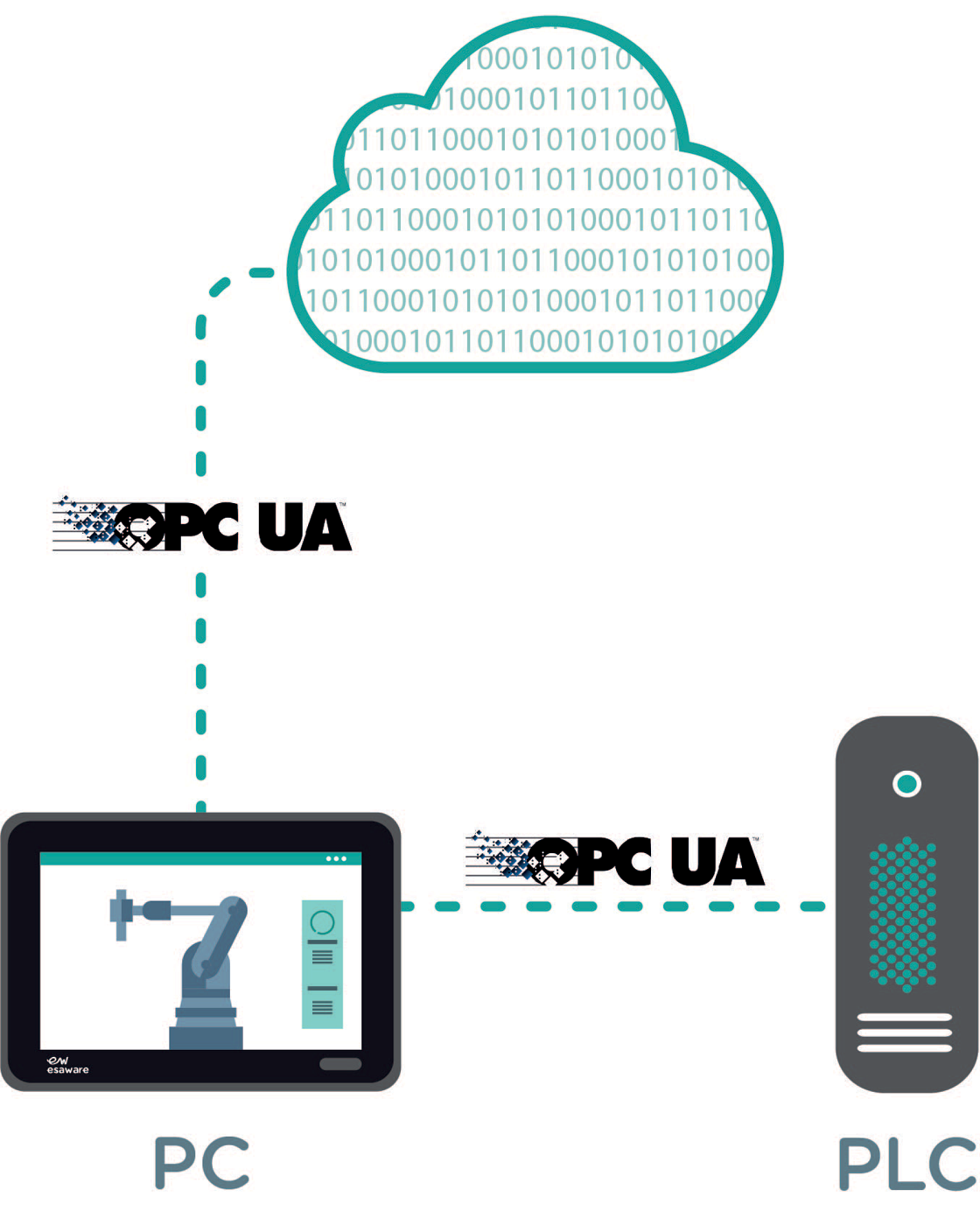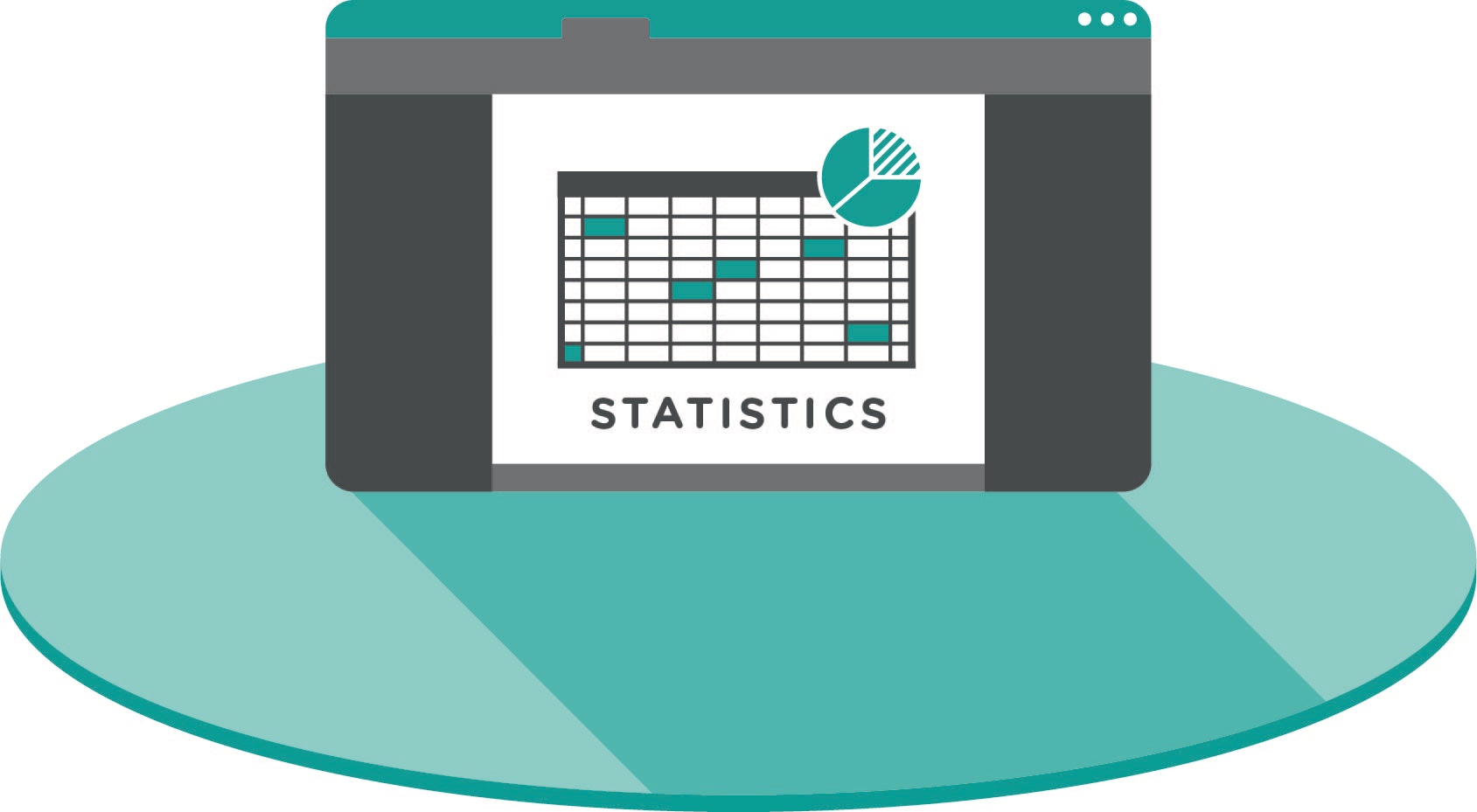 New view for alarms statistics
In Runtime you can directly create alarms statistics extremely useful in case of both casual faults and of faults occurred in a defined period of time. You can also track how long an alarm has been active.
Creation of project documentation.
Once finished the project, there is the possibility to export the documentation in format both pdf and word, attaching it directly to the machine papers, saving a lot of time usually dedicated to edit the documents.
In the project documentation you can add any kind of information related to the project, such as pages or list of used tags.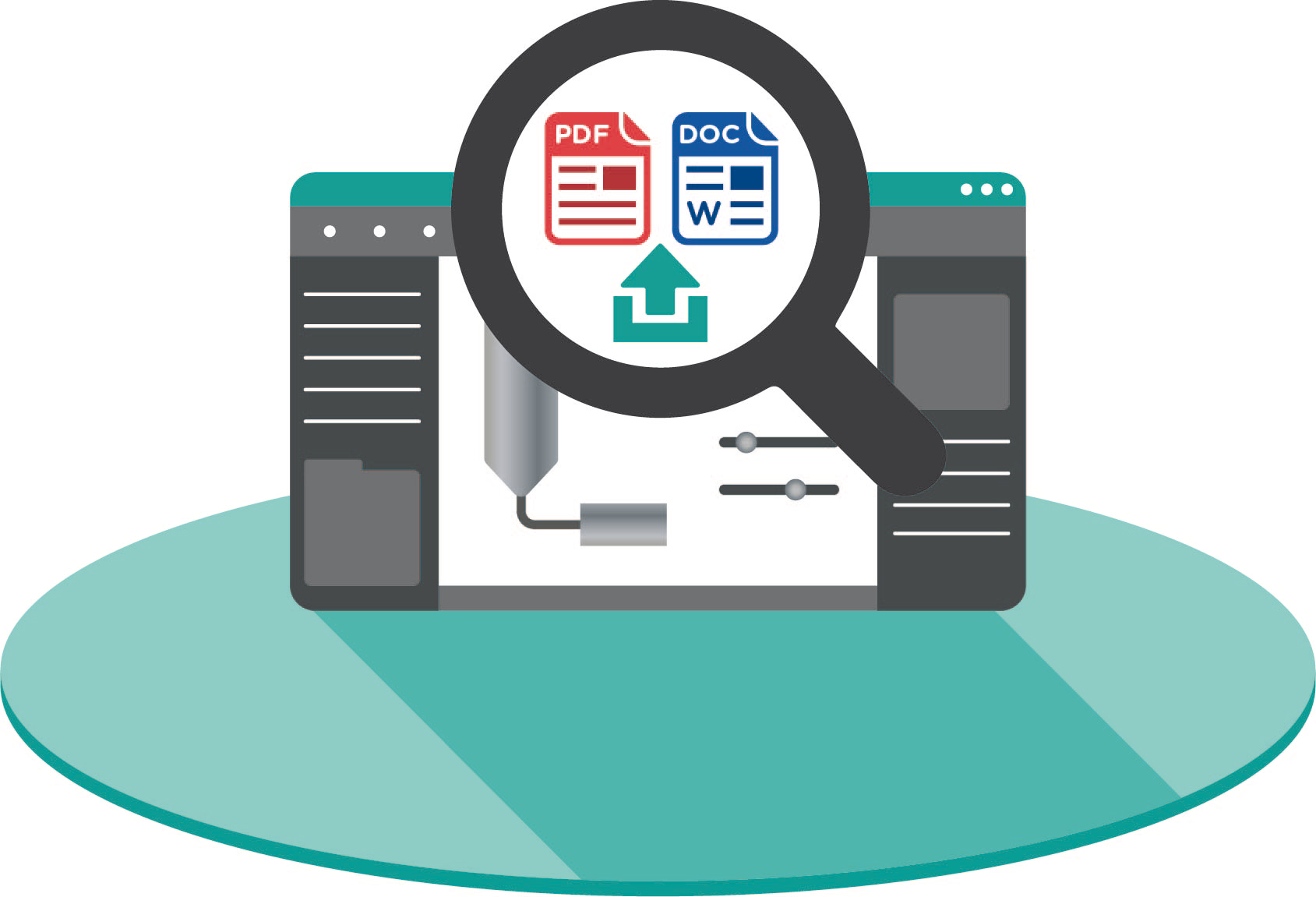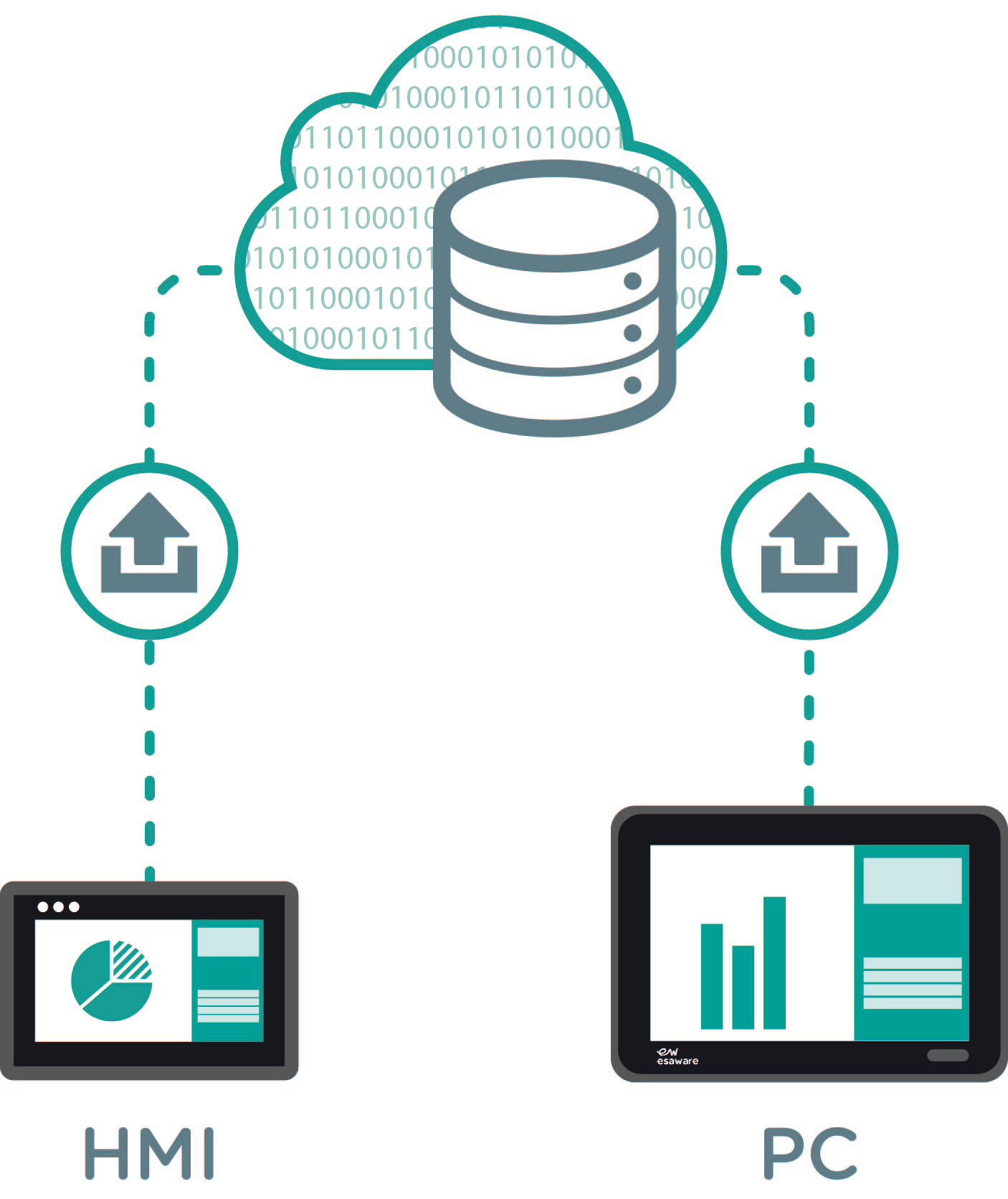 Connectivity to relational databases.
From Crew 2.0 on it is possible to access to any kind of database to store any data coming from field, read and trigged from HMI interface.Receipts cans be stored and shared so that they can be directly created in a higher system interconnected with business MRP and ERP systems.
In the same way, alarms can be store and shared to create customizes statistics for each production line.
Unit of measure converter
The unit of measure conversion let you develop one single project regardless of the measurement system in use. It is also possible to dynamically convert the displayed Runtime values according to the default or custom available tables.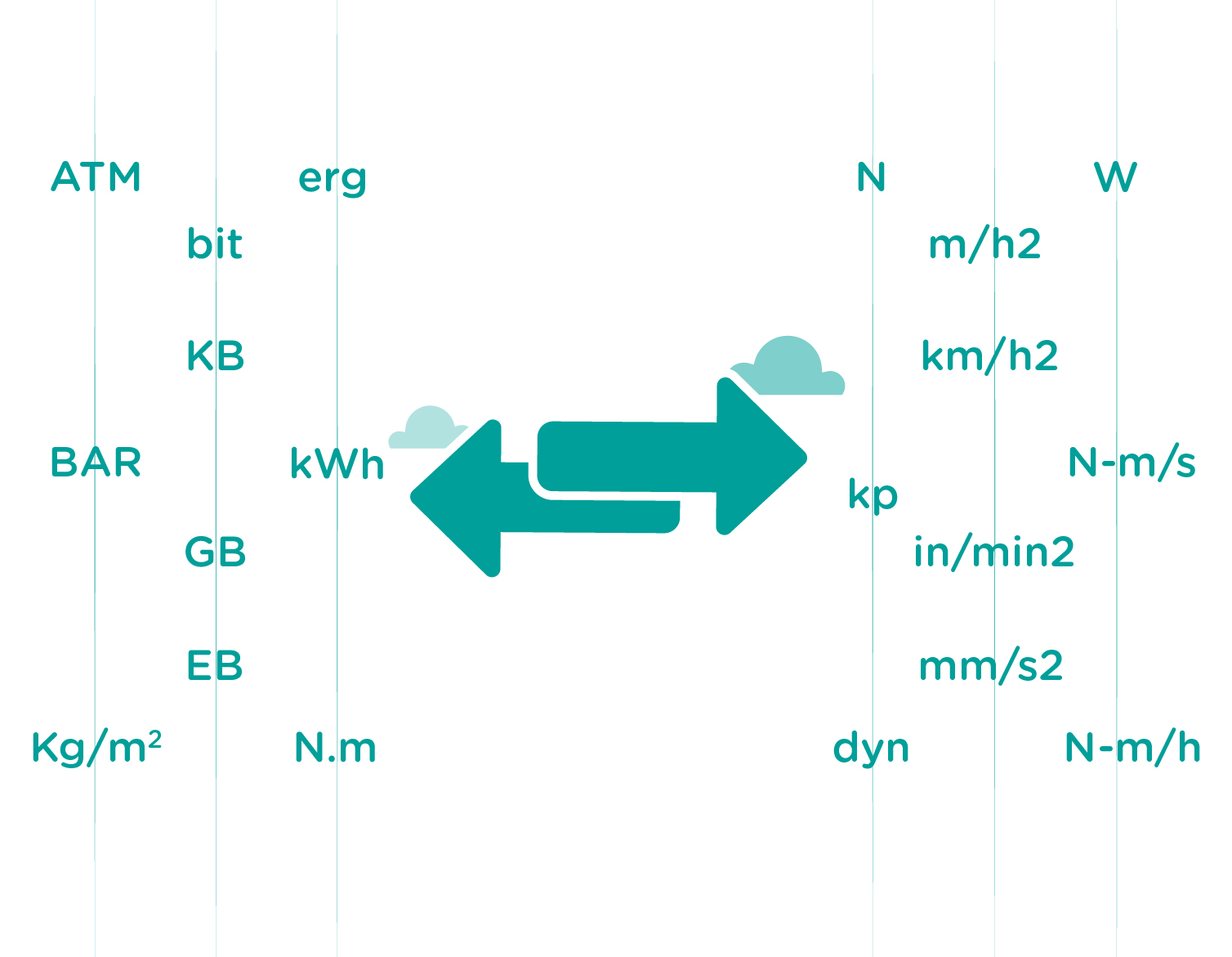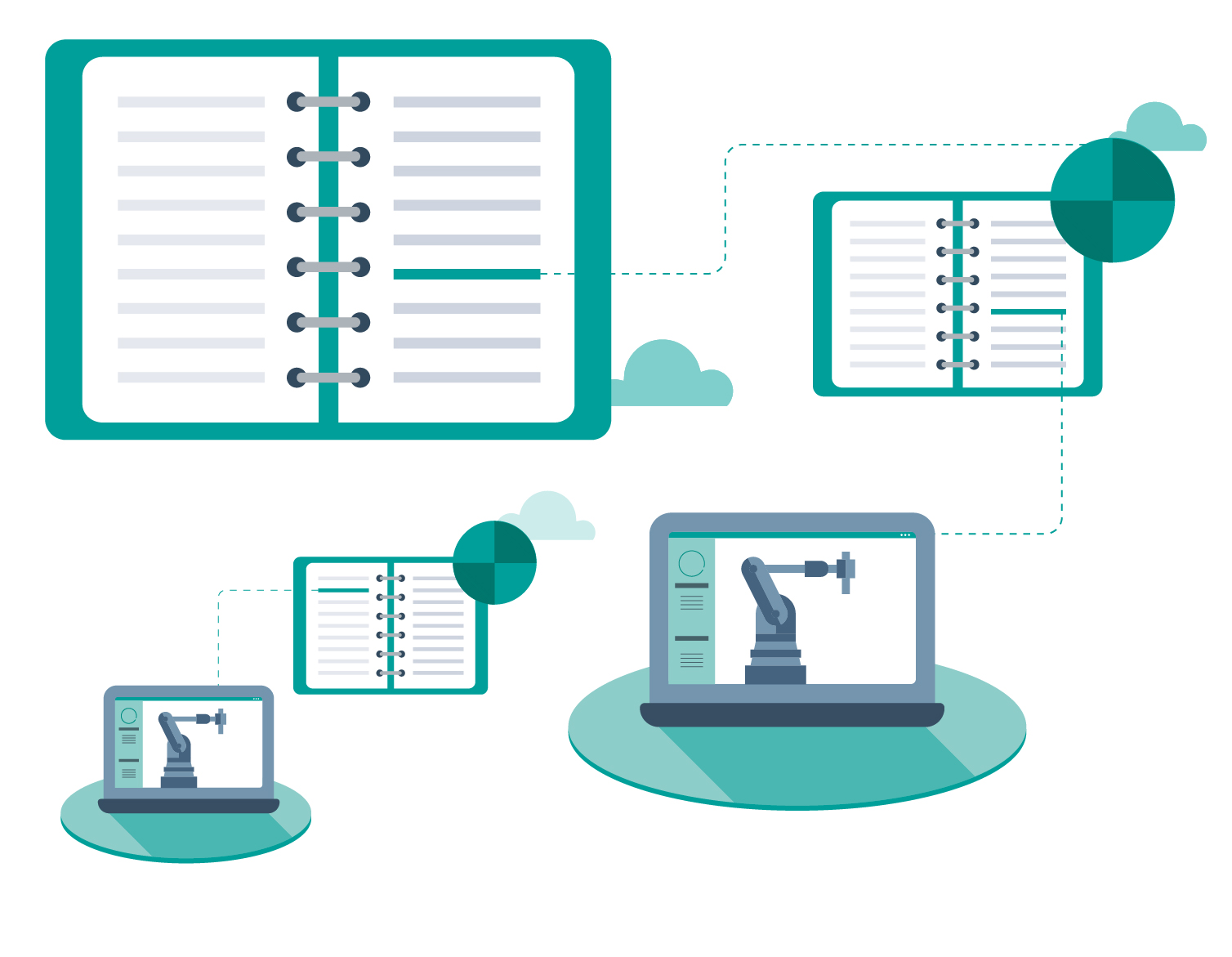 Scheduler
Thanks to the new Scheduler feature, you can schedule events and associate them to specific actions. The events can be selected from a list where you can find single events or multiple recurrent events.
Data export to ESA Automation Cloud with MQTT protocol
Any device programmed using our Crew SCADA can export data to the ESA Automation Cloud platform with standard MQTT protocol.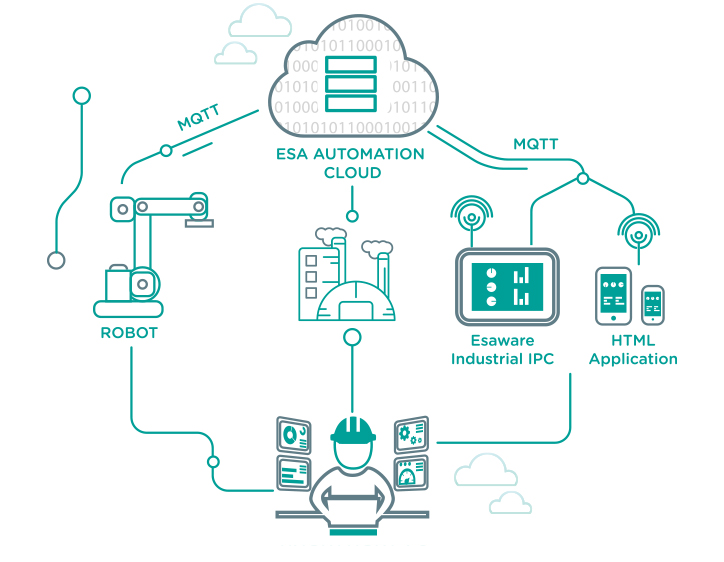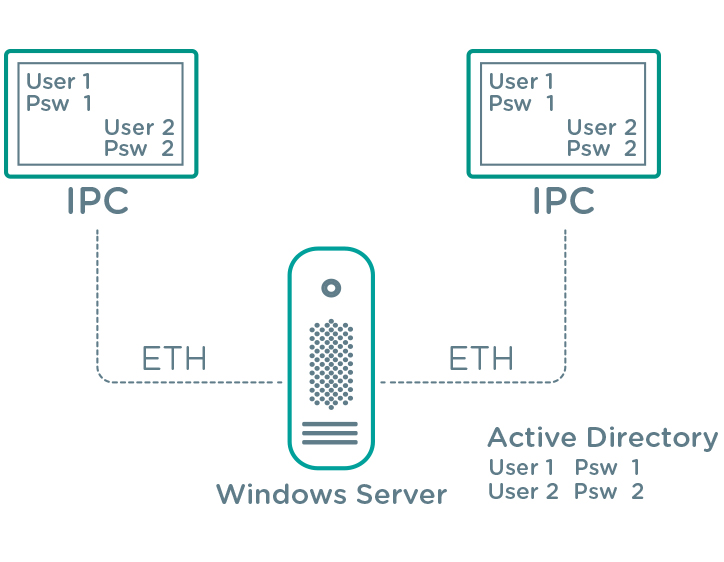 Synchronization between project users and Domain users
With Crew it is possible to use Windows Domain users as project users. Our Pc Runtime directly communicates with the Domain Server and keeps users synchronized, so that any change occurred on Windows Domain gets registered on our Runtime as well.
Trend functionality
Trend object in Runtime allows you:
To export trends and import them again to make comparison between different historical traces captured in different intervals.
To decide to use the multiscale functionality and the scale position of each pen inside the trend viewing.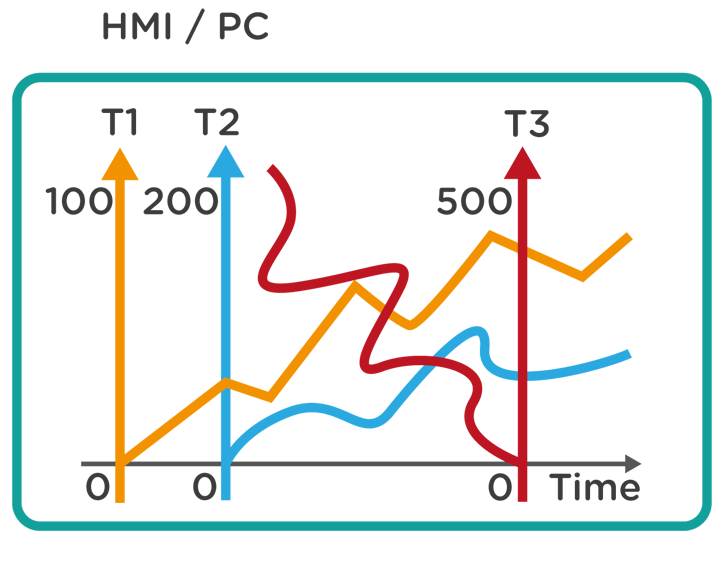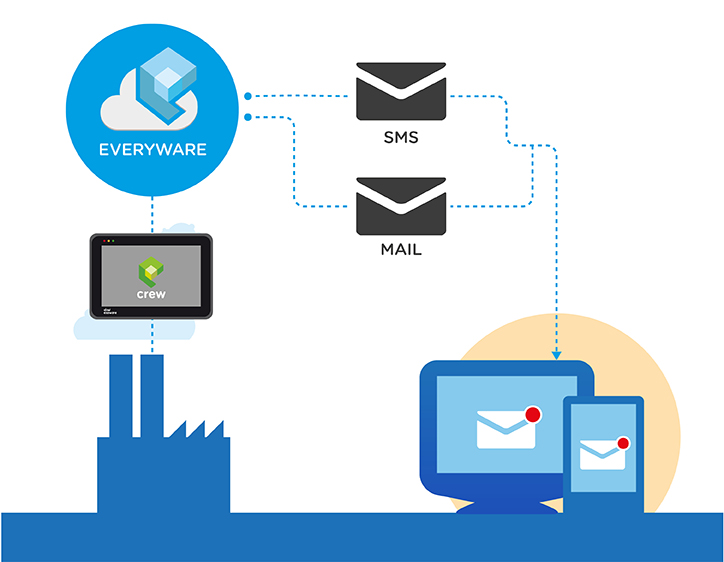 SMS and Email
In a simply and intuitive way, you can send SMS and Email for any event occured in Runtime. With this function, you can be advised in real time whatever happens in the plant.
Now you can send attachments, such as historical or active alarms and any kind of files
The user can configure the SMS and Email sending ina very easy way, as it is enough only adding email addresses and mobile numbers.
FDA Compliance
The Runtime respects FDA directives, especially the CFR21-part 11 about Food and Drugs. Users can in fact trace, record and authorize any Runtime activity for example through electronic signature.
FDA, mandatory password change upon first login: more FDA standards traceability offers the optional possibility to change the password during the first login on Runtime.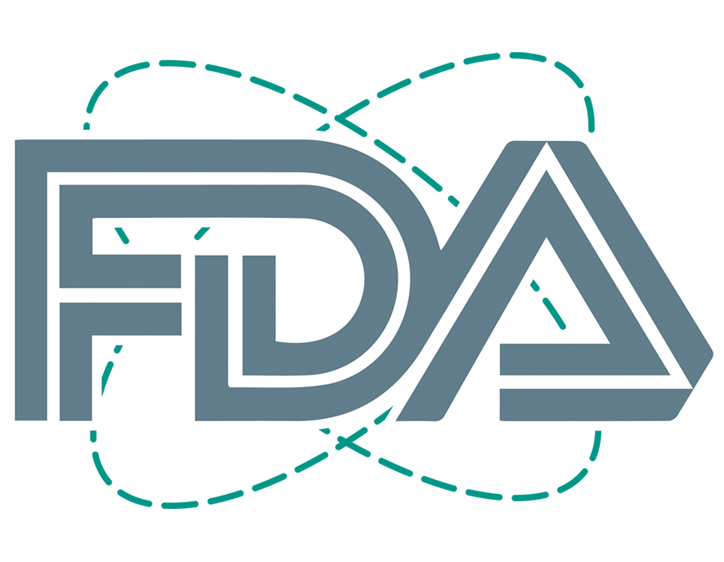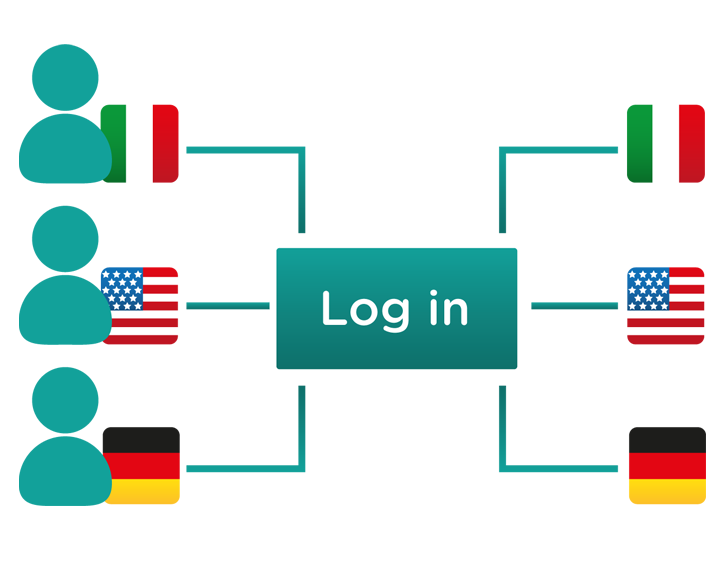 User language
With Crew you have the possibility to relate the visualization
language to the logged user. With this functionality it is very easy to manage different users with different languages.
SCADA Crew is also App
Now you can connect easily to your applications from any mobile device, such as smartphones or tablets with Android or Windows Phone operating systems.
Crew Apps have been designed to control your plants from your mobile device with one-handfree logic. The read only or editing mode makes the usage of any smartphone or tablet much easier.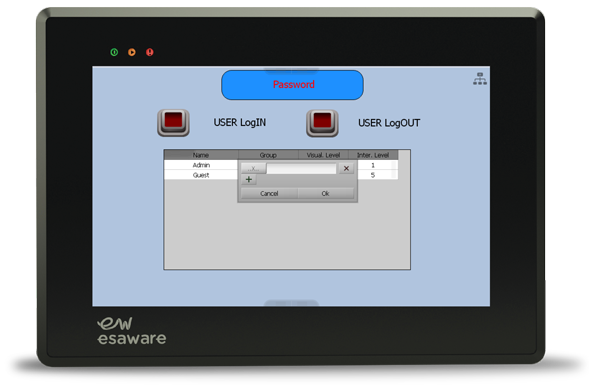 Dynamic filters in Runtime
Through a long press on the column heading of any view, you can add a dynamic content search filter in an easy and intuitive way.
HMI and IPC network project
Create your own network of HMIs and IPCs with a Master/Slave architecture, in order to share all variables and data through Network among connected devices.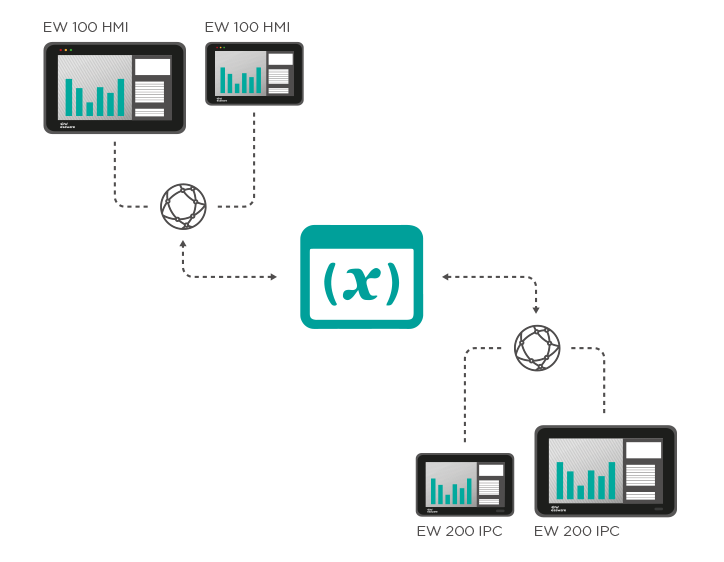 | CODES | DESCRIPTION |
| --- | --- |
| | |
| CREWPCEDITOR | PC DEVELOPMENT TOOL |
| CREWOPNFDA | FDA LICENCE CFR21 |
| | |
| CRRT128OEM | PC RUNTIME OEM LICENCE 128 TAGS (ESA HARDWARE) |
| CRRT256OEM | PC RUNTIME OEM LICENCE 256 TAGS (ESA HARDWARE) |
| CRRT512OEM | PC RUNTIME OEM LICENCE 512 TAGS (ESA HARDWARE) |
| CRRT1024OEM | PC RUNTIME OEM LICENCE 1024 TAGS (ESA HARDWARE) |
| CRRT2048OEM | PC RUNTIME OEM LICENCE 2048 TAGS (ESA HARDWARE) |
| CRRT4096OEM | PC RUNTIME OEM LICENCE 4096 TAGS (ESA HARDWARE) |
| CRRT8192OEM | PC RUNTIME OEM LICENCE 8192 TAGS (ESA HARDWARE) |
| CRRTUNLOEM | PC RUNTIME OEM LICENCE UNLIMITED TAGS (ESA HARDWARE) |
| CRRT128OPN | PC RUNTIME OPEN 128 TAGS (NOT ESA HARDWARE) |
| CRRT256OPN | PC RUNTIME OPEN 256 TAGS (NOT ESA HARDWARE) |
| CRRT512OPN | PC RUNTIME OPEN 512 TAGS (NOT ESA HARDWARE) |
| CRRT1024OPN | PC RUNTIME OPEN 1024 TAGS (NOT ESA HARDWARE) |
| CRRT2048OPN | PC RUNTIME OPEN 2048 TAGS (NOT ESA HARDWARE) |
| CRRT4096OPN | PC RUNTIME OPEN 4096 TAGS (NOT ESA HARDWARE) |
| CRRT8192OPN | PC RUNTIME OPEN 8196 TAGS (NOT ESA HARDWARE) |
| CRRTUNLOPN | PC RUNTIME OPEN LICENCE UNLIMITED TAGS (NOT ESA HARDWARE) |