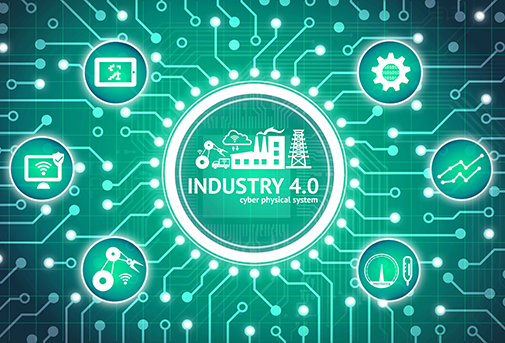 Wenn wir die Anforderungen einer 4.0-Produktion betrachten, ist klar, wie real der Bedarf an Softwarelösungen für Industrie 4.0 ist. Von der Planung der Projekte über die Wartung bis hin zur Ressourceneffizienz brauchen wir Systeme, die nach den Prinzipien der vierten industriellen Revolution geschaffen werden.
Intelligente Software für die Smart Factory
Softwarelösungen sind der Motor von Industrie 4.0, weil sie jene Funktionen umsetzen, die für den Fortschritt des Produktionssystems grundlegend sind. Aus diesem Grund ist die Entwicklung und Implementierung innovativer Software der Schlüssel, um Unternehmen für die Smart Factory fit zu machen.
Insbesondere müssen Softwarelösungen für Industrie 4.0 in der Lage sein:
Realisierung der Digitalisierung und Vernetzung der Unternehmen.
Verwalten von großen Datenmengen im System.
Optimierung des Produktionssystems durch Simulations- und Virtualisierungsfunktionen.
Ermöglichen einer konstanten Kontrolle und pünktlichen Wartung.
Zur Sicherheit der Produktionsanlage beitragen und sie vor Cyber-Angriffen schützen.
Überwachen des Verbrauchs von Energie und anderen Ressourcen, um maximale Effizienz zu
gewährleisten.
ESA Automation Softwarelösungen für die Industrie 4.0
Aus den genannten Gründen hat ESA Automation eine komplette Palette von Softwarelösungen für die Industrie 4.0 entwickelt, die den Anforderungen von Smart Manufacturing gerecht werden. Angefangen bei der Programmierung von HMI-Geräten, durch Crew Software. Als Teil der Esaware-Linie bietet dieses SCADA mehrere Funktionen für die Industrie 4.0, wie die Möglichkeit, Daten auf der Cloud-Plattform zu exportieren und Ereignisse zu planen, um den Workflow der Produktionsanlage mit dem Scheduler zu unterstützen.
Die Fernwartungsplattform Everyware ist ein großartiges Beispiel des Internet of Things (IoT) Prinzips. Zur Verbesserung der Produktionseffizienz hat ESA Automation die Software Energyaware entwickelt, die Teil der Energiemanagementlinie ist. Mit dieser Softwarelösung für Industrie 4.0 können Sie ein integriertes System zur Messung, Überwachung und Fernsteuerung des Energieverbrauchs erstellen.
ESA Automation hat mit seinem Cloud-Service das Paket abgerundet, um das Datenmanagement und den Datenfluss innerhalb der Produktionsanlage zu verbessern und vereinfachen, dies wiederum gemäß den Anforderungen des Internet of Things (IoT).
Entdecken Sie alle ESA-Automatisierungslösungen für die industrielle Automatisierung.