ESA Automation presents the most comprehensive range of "ALL IN ONE" PAC controllers and
includes bright high definition touch screens from 4.3" up to the impressive 15".
Discover the potential in our renowned PLC, HMI, CNC, Motion Control and IT server, in one powerful device with the number of I/O and Axis easily increased using our CAN Open expansion boards.
Realise the huge advantages of writing a SINGLE APPLICATION that incorporates PLC, CNC and HMI functions. We produce standard ISO (G code) CNC solutions for machining wood, glass, stone, ceramics, plastic, and other materials.
ESA has the right solution to improve your machine.
The ESA Automation Application Engineering Service and "Turnkey" customer oriented solutions. We offer a complete customer oriented automation "Turnkey" solution, including HMI, CNC, PLC and SCADA application development, debug, simulation, and full training of you engineers.
Moreover, we provide onsite final testing on the customer's plant or on the end user plant. Possibility to have customized applications.
Machine tools for working metal
Tube bending machines
for this particular machine we have developed one of the most complete control solution, based on macro user-friendly programming cycles, for single or multiple working machines.
Band saws cutting machines
we have different applications for these machines, from a basic solution with keyboard and display, to the big touch screen based four axis machine motion and PLC control.
Screwing machine
we have developed a machine center for working on iron bars, that can provide all kinds of drilling, screwing and milling thanks to a wizard macro programming tool.
Machine tools for working sheet
Laser, water jet and plasma cutting
The complete solution, up to four axis, with integrated standard or gantry axis management, for all Cartesian robots for metal sheet (but also stone, plastic, rubber, paper) cutting and engraving. ISO (G code) interface that can be easily adapted to all the CAD CAM you may need by our post processor making service. Moreover, a lot of scalable tools like DXF to Macro and DXF to ISO generators can be added to the application.
Press brakes
Like all the other applications, our Press brake application is easy to use and guides you through the making of all your pieces. A flexible graphic editor will guide you through the entire metal
sheet manipulating process.
Cutting, pressing, profiling and straightener metal sheet lines
A completely configurable metal sheet working all-in-one application that includes PLC and Motion control.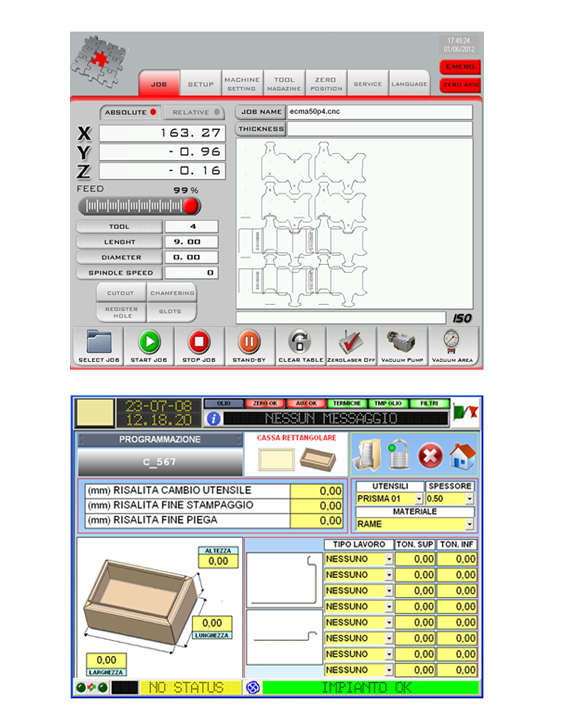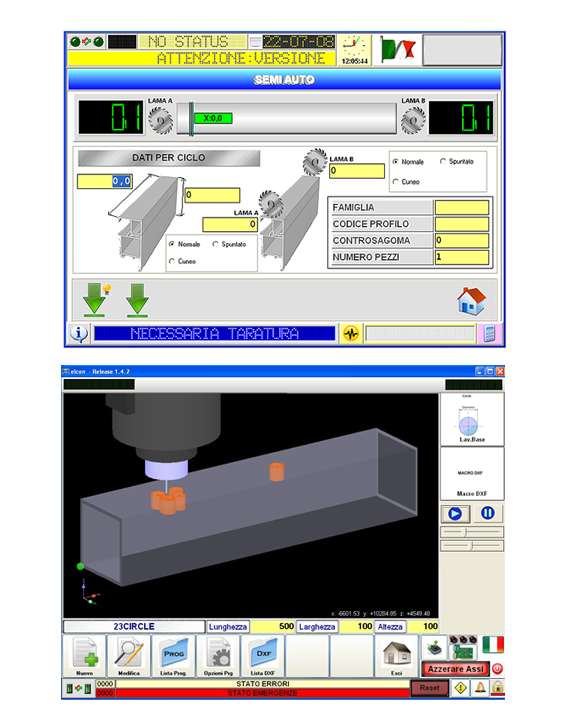 Machine tools for alu & PVC windows profiles and sections

Cutting single or double head machines application
The ESA Automation PVC and ALU profiles cutting single or double head machines application synthesizes twenty years of experience. It is our most complete application, including profiles
typology management, profiles cutting formulas, importing and exporting tools for the most important windows cad drawing tools.
Alu profiles machine centers
The 3D simulation tool opens different scenarios of machining programming, as you can decide to work starting from a Macro, from a DXF drawing, from a Macro generated by a DXF drawing,
or simply connecting it to an external CAD CAM. Inputs and outputs of the SoftPLC can be configured on a page protected by a password. Moreover, a good oscilloscope function allows
you to trigger and to follow the behavior of all axis variables.
Wood windows profiles machine centers
The wood profile machine center applications by ESA Automation include several machines, from the simplest 3 axis standard wood engraving doors and windows profiles machine centers to the most complete producing line, up to 50 Axes or more.
Panel machining centers
You can count on several Cad cam solutions, in order to draw directly on the CNC application the shape you want to engrave, generating directly ISO (G code), together with the availability of Macro programming or using our DXF to ISO and DXF to Macro scalable tools.
Spindle molder and circular saw solutions
We work for the most important machines producers in the world and we offer a complete range of scalable hardware and software solutions with the best value for money. Our solutions are ready to manage radio controlled registers and tools changing systems.
Edgebander machines
For these machines, we offer a dedicated hardware and software solution. All the applications are fully configurable, with the possibility to scale the machine layout, activating or deactivating
all the edge working groups. We can manage both motorized and pneumatic groups, and the application fully controls the temperature of the gluing groups.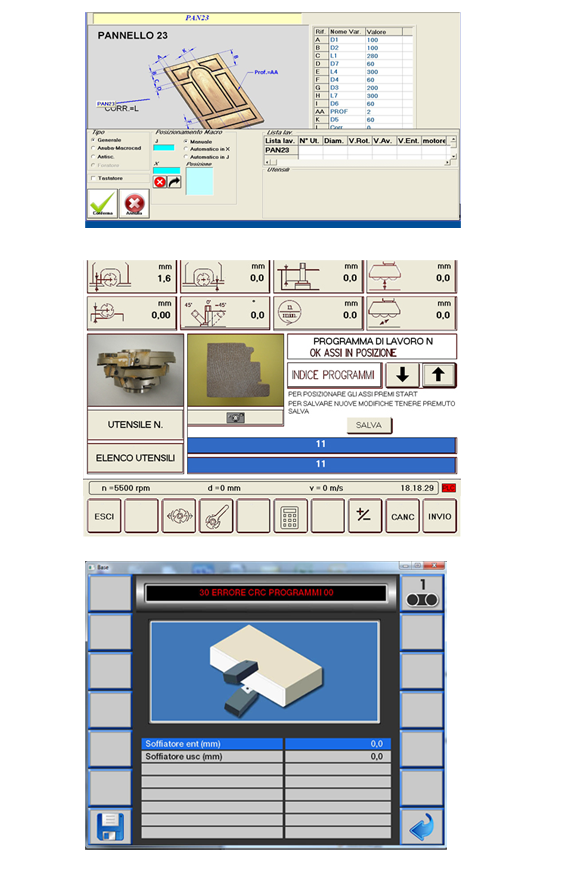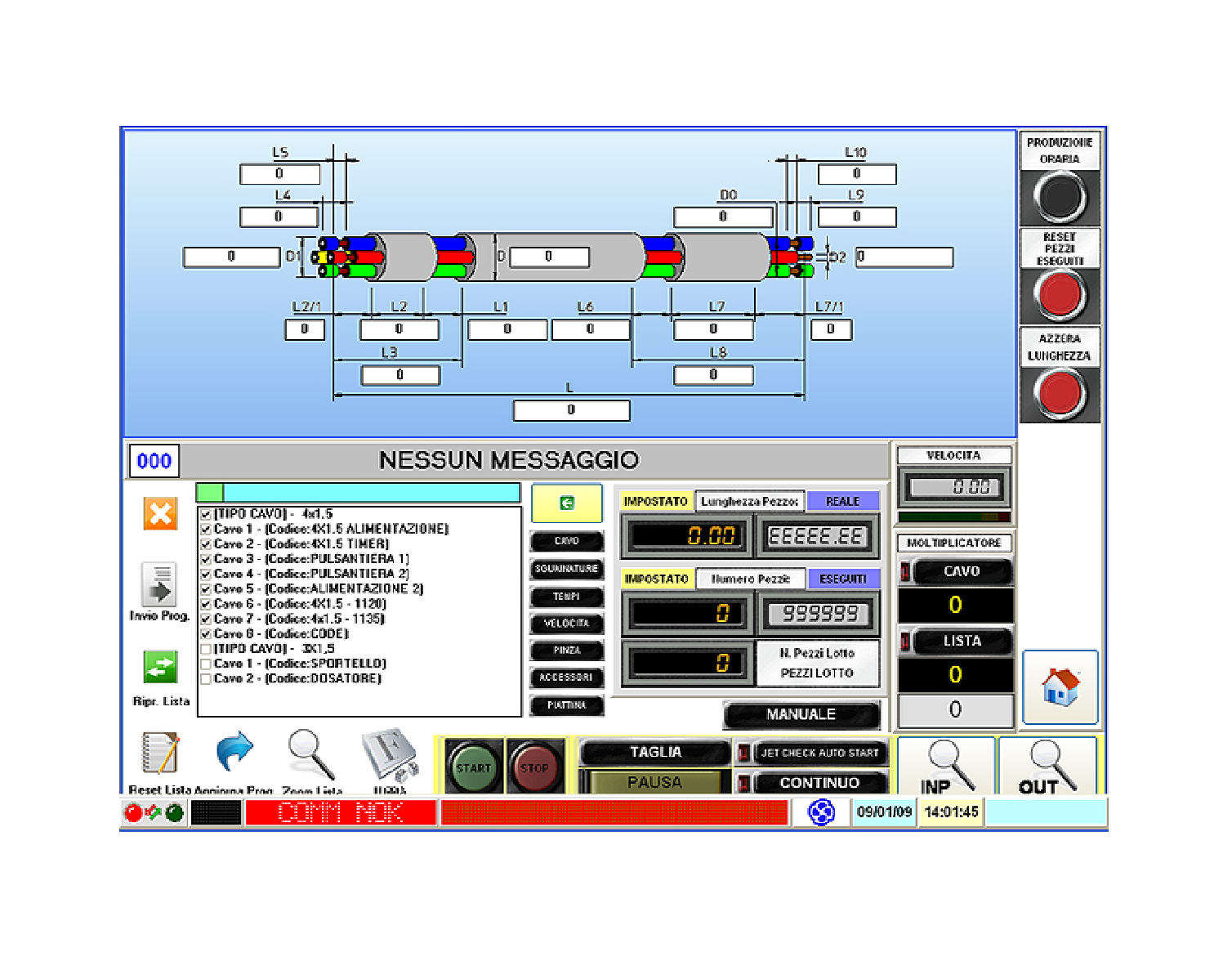 Cables and wires working machines
The ESA Automation application for working cables machines is a very powerful control software that can completely manage a 4 axis controlled machine, with a motorized blades group or a pneumatic controlled one. The application can also manage the raw cables and wires database, in order to assign a wiring working order with different kinds of wires and cables. The
application supports all the most diffused inkjet fast printers. The working order can be sent by net and web, and can be imported from XLS files. A user-friendly interface allows you to program and configure the order list very quickly.
Glass vertical and horizontal machine centers

The application includes a rich endowment of macros that automatically includes all the "pre-process" necessary to prepare the glass sheet for the final working, without the risk of breaking
it. The application can be connected to different CAD CAMs and can be easily configured for different sizes of machine. Finally, it can also support different layouts of axis configuration.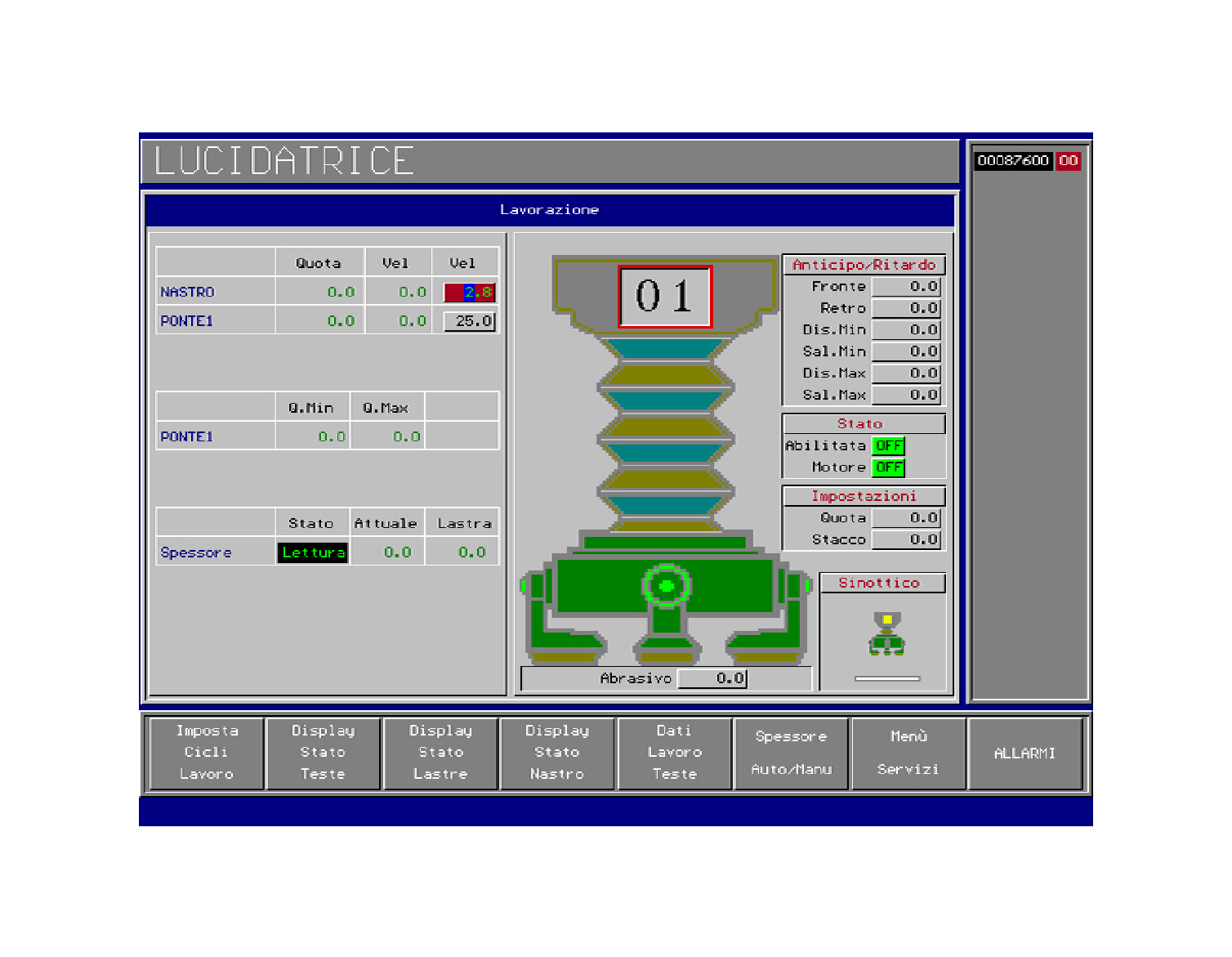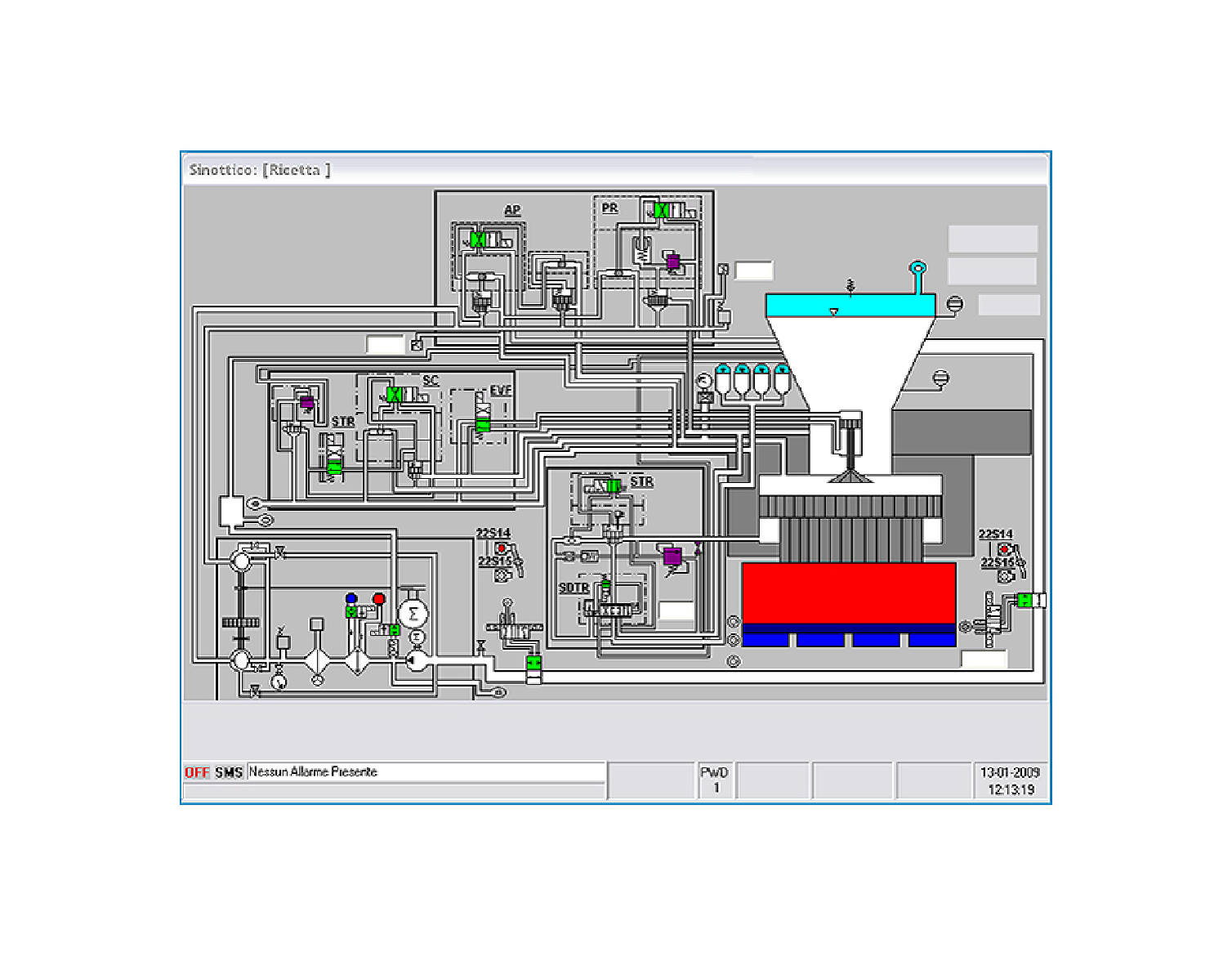 Ceramic plates processigng plants
Our solution for the tiles production line and press control has been chosen by the main players of this market. It includes the management of the entire production cycle, from the dust dosing on the dies, to the continuous parallelism control and the precise expulsion of the tiles.
The ESA Automation flow pack 3 – 5 axis electronic cams based application can manage different machine sizes and layouts. From the standard flow pack with rotating sealing group to the translating one, the app can manage several sealing processing options, as "no product, no bag" or "no phase, no seal". The sealing group temperatures are controlled by the application, and the motor can be driven by digital field buses or by analog or step + dir outputs. Different brands of "on line" inkjet printers are available on the configuration pages, as well as various options in the machine phasing of the electronic cams.