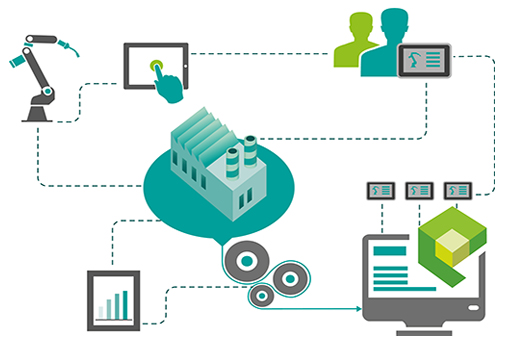 L'Industria 4.0 ha dimostrato di essere più di un semplice trend o di una mossa di marketing. Questo concetto si è via via concretizzato, riuscendo nel giro di qualche anno a rimodellare il settore dell'automazione industriale.
Sono cambiate le necessità e con esse le tecnologie utilizzate. Questo vale anche per i prodotti di ESA Automation, che da sempre investe nella ricerca e nell'innovazione per offrire le soluzioni di cui l'Industria ha bisogno.
Esaware: una risposta all'Industria 4.0
La linea Esaware incarna i valori di apertura e di flessibilità dell'Industria 4.0. Si tratta di una gamma completa di soluzioni hardware e software per l'automazione industriale, progettate per permettere all'operatore di svolgere compiti sempre più complessi in modo semplificato.
Infatti l'Industria 4.0 nasce proprio dai cambiamenti che hanno caratterizzato il settore in questi ultimi anni. Dai volumi sempre maggiori di dati e informazioni che circolano in un impianto di produzione, allo sviluppo di nuove forme di interazione tra uomo e macchina e tra le macchine stesse.
Da qui l'obiettivo dei prodotti di ESA Automation, che con Esaware ha introdotto soluzioni smart ed efficienti, che permettono all'utente di gestire qualsiasi realtà industriale.
Nell'Industria 4.0 assistiamo infatti a una netta egemonia del software sull'hardware. Ovvero della mente sul corpo. È su questo che ESA Automation sta investendo, come dimostra lo SCADA Crew della linea Esaware.
Si tratta di un software intuitivo e immediato, che permette di programmare tutte le soluzioni HMI e IPC con la massima facilità.
Come? Grazie alla grafica semplice e accattivante, a una libreria di oggetti in vettoriale personalizzabili, e a comandi comodi e familiari.
Oppure la piattaforma di assistenza remota Everyware, che rende possibile monitorare l'impianto e intervenire a distanza sui macchinari con dei problemi tecnici.
Il futuro dell'industria 4.0 e dei prodotti di ESA Automation
Come ogni realtà, anche l'Industria 4.0 è soggetta al progresso e al cambiamento. Ogni anno ci troviamo ad affrontare nuove esigenze e possiamo contare su nuove scoperte.
Quello che è certo, è che la strada imboccata dall'automazione industriale è quella dell'IoT (internet of things) e dell'IoS (internet of services). Vale a dire un futuro in cui l'interazione tra i dispositivi sarà sempre più avanzata e automatica.
Macchine e software accedono di propria iniziativa alle informazioni disponibili e le comunicano autonomamente ad altri sistemi o all'uomo. Senza bisogno di protocolli o di preconfigurazione.
Un futuro che è già iniziato con i nuovi prodotti di ESA Automation creati per l'Industria 4.0. Come il servizio di Cloud e il Web Panel Esaware, che trasformano la gestione e il funzionamento degli impianti, rendendoli completamente aperti.
Infine, tra le tendenze più marcate dell'Industria 4.0, è fondamentale citare la sensibilizzazione in materia di consumi energetici e di impatto ambientale (oltre che economico).
Il costo delle risorse non rinnovabili è in costane crescita e la necessità di un più attento monitoraggio dei consumi energetici è ormai imprescindibile. Ecco perché ESA Automation ha creato una gamma di soluzioni per l'energy management, composta da dispositivi smart meter e dal software Energyaware.
Più efficienza e apertura: sono questi i valori dell'Industria 4.0 che cambieranno il settore dell'automazione e che hanno dato vita ai prodotti di ESA Automation.