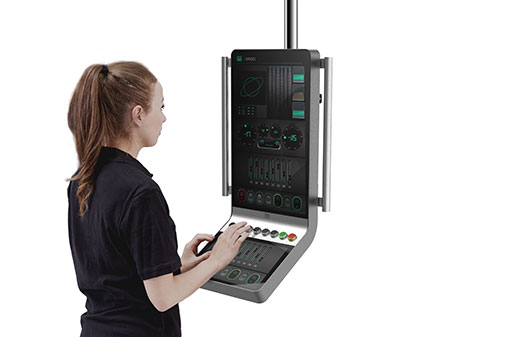 For the past decades, the evolution of the concept of human-machine interface has defined the industry. Today, with trends such as the Internet of Things and digitalization, we need increasingly sophisticated and interconnected HMI systems to operate in production plants.
In all industrial sectors, from automotive to the health sector, companies need interfaces that can make operations as immediate and intuitive as possible. Just like our everyday devices, such as smartphones and tablets.
That is one of ESA Automation's main goals. Our team of technicians and IT experts is constantly working on HMI solutions that can integrate all the Industry 4.0 principles. Starting with ERGO, our new all-in-one control system.
ERGO: flexibility and ergonomics
Thanks to its unique level of control and configurability, ERGO perfectly embodies the new concept of human-machine interface 4.0. This device features a flat projected capacitive multi-touch screen and a 21.5" million colors TFT display, and offers users the possibility to choose among numerous configuration options, which include a second 12.1″ HMI, touch keypads and additional buttons.
Furthermore, ERGO can be supplied with a powerful x86 PC based CPU with the latest Intel Core processor or with a Linux-based ARM Imx6 CPU. Or it can also be used as a simple monitor.
Available in two versions (ergonomic 120° or classical), the new ESA Automation solution aims to make human-machine interaction as efficient as possible, offering an incredible level of flexibility and customization.
HMI and Industry 4.0
It's important to focus our research and development efforts to innovate human-machine interface according to the Industry 4.0 values. The integration of state-of-the-art HMIs that reflect the concepts of digitization and IoT has a huge impact on the creation of new efficiencies in the production process. From gesture recognition technologies, multi-touch screens and ease of use and installation, the benefits for operators are endless.
With that in mind, ESA Automation aims to provide industrial solutions that are customer oriented. Synergistic and interconnected systems that can maximize productivity and efficiency.