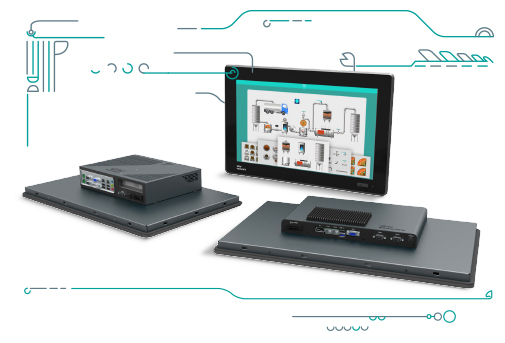 Visualization and control are fundamental elements in industrial automation.
That is why the ESA Automation IPC and industrial monitor solutions introduce a state-of-the-art technology capable of simplifying the operator's job.
Find out what are the most important features in a Panel PC.
ESA Automation and the Esaware IPCs
The line of solutions for industrial automation Esaware includes a wide range of innovative IPCs and industrial monitors. They are devices designed to satisfy the most urgent requirements of the industrial filed.
And in fact EA Automation has conceived this range of products for an Industry 4.0 contest. That is with the objective of making the job of operators easier so as to make the production process more efficient.
Available both in the Box and Panel IPC version (including the new Slim Panel IPC), all ESA Automation industrial PCs offer ease of visualization and control on your plant. But this isn't all.
Like all Esaware solutions, they are characterized by their minimalistic and captivating design, studied to make the device more durable and easier to use.
Such as the external aluminum frame, thanks to a non-sticking PTFE coating and to the shape named Twist, which presents a slightly inclined surface that doesn't retain dust or other dangerous substances, on top of making it easier to clean.
The technology behind ESA Automation IPCs and industrial monitors
ESA Automation IPCs and industrial monitors integrate several innovations that make them ideal tools for the visualization and control of your applications.
However, the Esaware line offers also a wide choice of options and configurations so as to adapt to any industrial context.
All Esaware industrial monitors have a 16:9 LCD wide screen display, which guarantees an additional 40% of visualization surface on the horizontal axis. The display is also equipped with capacitive or resistive touch screen for an easier and quicker job.
On top of that, the ESA Automation industrial monitors reduce eye stress and tiredness thanks to the white LED backlighting.
We have mentioned Industry 4.0 and efficiency: two fundamental concepts for the technology behind the ESA Automation IPCs and industrial monitors. IPCs equipped with fourth generation of Intel® Core™ processors, that assure superior performances with less consumption. And it's not all.
Among the many innovations of Esaware Panel IPCs, we find the USB 3.0 interface, with ten times faster saving and transferring times than the USB 2.0,  and the SDRAM with DDR3 technology.
In the same way, the ESA Automation industrial monitors presents useful features such as multi video inputs and multi touch screen outputs, on top of the same elegant design as EW200 IPCs. A design that is even more interesting and slender thanks to the reduced depths of the device.
Shape, performance and ease of usage: these are the three areas in which the ESA Automation IPC and industrial monitor solutions shine. And it's thanks to these innovative characteristics that they represent a perfect support for companies that operate in the Industry 4.0.