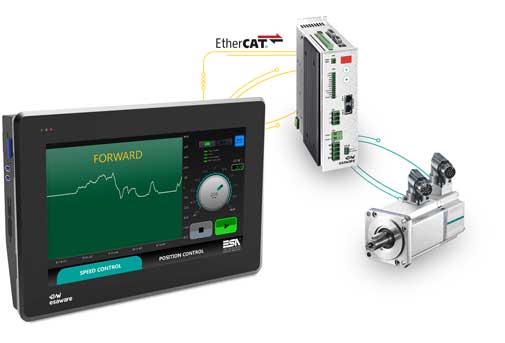 If the goal is the production process efficiency, the integration of mechatronics and industrial automation is a vital step. For this reason, among ESA Automation's main objectives we find the creation of an interconnected system among mechanics, electronics and informatics.
Creating solutions for the Industry 4.0 goes beyond designing and manufacturing innovative and performing technologies. It also (and above all) means to make these products part of an integrated system at every level of the production chain.
From setting up a production to monitoring energy consumption, ESA Automation offers symbiotic solutions aimed at promoting plant efficiency and increasing productivity in a smart way.
New market needs in the Industry 4.0 and ESA Automation solutions
Market needs have changed as well with the paradigms of the Industry 4.0. In fact, today the most common demands that we get are:
Increase of productivity.
Monitoring of costs.
Interconnected installations.
Productivity increase
Increasing productivity does not just mean to produce more and faster, but to enable customers to reduce machine downtimes. What they need are more autonomous technologies and a more effective system of prevention and resolution.
To meet this new need, ESA Automation has created its Everyware remote support platform. This software allows the operator to monitor and interact with the system, no matter the distance. This solution is based on an encrypted and secure connection, certified by advanced vulnerability testing.
Cost monitoring
According to the Industry 4.0, in order to optimize production, monitoring consumption and costs is a key element.
For this reason, ESA Automation has developed its line of energy management solutions. Smart Meter, Data Manager, and the Energyaware software allow you to timely and continuously collect information on consumption and identify potential problems.
Increasing interconnection between installations
The most important element of integration between mechatronics and industrial automation is the creation of a more interconnected system.
ESA Automation offers its expertise to provide clients with the best solution, assisting them in both choosing the components and programming them, as well as making them work.
We have recently helped a major customer with our Esaware brushless engines EWM5 and the integrated gearboxes and wide range EWDC drives. A combination that has allowed us to reduce the initial setup time of the machine.
By partnering with the customer and exploiting our technological know-how, we have analyzed the rest of the automation and we have taken a further step to optimize the development, debugging and commissioning of the machine. We then proceeded with the standardization of the logic of the PLC part, our HMI solution with SoftPLC Esaware EW100AB. With this solution, it was also possible to optimize the time needed for the application development and maintenance by using our Crew software.
It is clear that ESA Automation wants to provide industry-leading solutions that work synergistically according to the principles of connectivity and efficiency of the Industry 4.0.