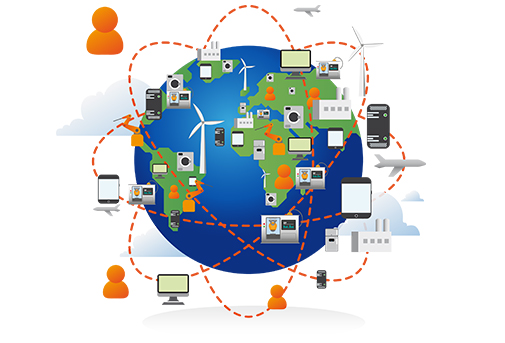 The Internet of Things (IoT) represents what todays industry is all about. The Industry 4.0, which bases its values on this principle.
This is a reality that involves all the companies in the industry and that has made a major change in the way they conduct their activities, as well as in products or services.
Let's see what is the ESA Automation approach to the innovations of the Internet of Things.
Esaware: the Internet of Things according to ESA Automation
Let's begin by giving a definition of what the Internet of Things is.
It is a technological reality in which devices are able to access data that are contained in the system which they are connected to and communicate it via the Web to other devices, in an autonomous way.
The result is a system of machines capable of running continuously and effectively without constant human intervention.
The line of solutions for industrial automation Esaware offers just this kind of approach. Specifically, it focuses on simplifying the operator's job thanks to software and hardware products that are capable of making the industrial process more intuitive and fast.
For example, Everyware remote assistance platform, which in accordance with the Internet of Things, gives you the possibility to monitor and intervene on any production plant, wherever it is.
This is only possible thanks to the data exchange that occurs between the system machines and the software, which will communicate with the user in case of malfunction. Of course, this allows you to obtain a relevant saving of time and human labor.
However, the IoT potential of Esaware products is even more clear in the way the ESA Automation's solutions for energy management work.
In fact, using the Esaware Data Manager you can manage a system of distributed meters for continuous monitoring of energy consumption. These devices communicate with the machinery on which they are installed and with other meters (water, gas, etc.), automatically initiating an exchange of consumption data in order to monitor the energy efficiency of the plant.
Hence, the operator doesn't have to pay attention to each machine or device, but he can visualize the collected data on a browser using the software Energyaware.
The Internet of Services and the future of industry
From the the Internet of Things concept starts another important chapter of the Industry 4.0: the Internet of Services. This phenomenon is an evolution of the first one and consists in the possibility of providing a system of autonomous services for an even more timely and efficient functioning of the industrial sector.
Again, the ESA Automation approach to IoT and IOS innovations consists in anticipating the next industrial trends, offering solutions that can make working even more immediate.
Continue to follow our blog to be updated on ESA Automation news about industrial automation.