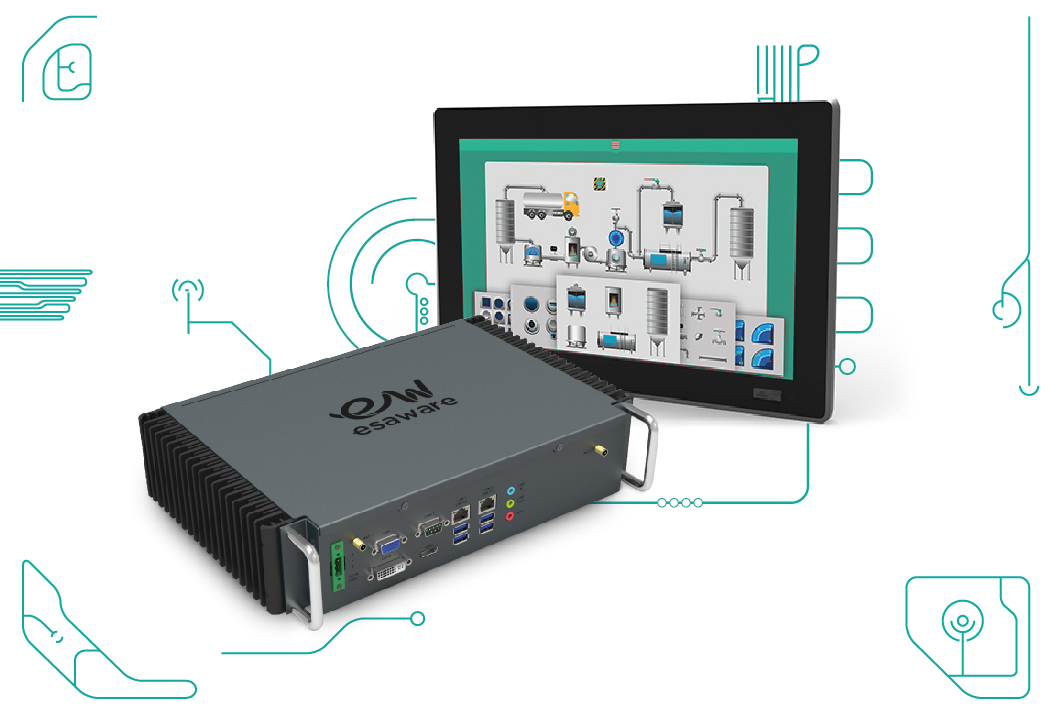 Control, visualization and strength. With the Esaware box IPC and industrial monitor pairing, ESA Automation offers a complete solution that encloses all the main features that are necessary to operate with extreme efficiency and safety in the Industry 4.0.
The stability of the EW400 box IPX line meets the elegance of the EW300 industrial monitor. Two different designs, but both equally innovative and perfectly adapt to the harshest industrial environments.
Why you should integrate the Esaware box IPCs and industrial monitors
On one hand, Esaware box IPCs are a guarantee of stability and configurability. In industrial automation – and especially in certain industrial sectors – it is indeed necessary to be able to count on devices that provide excellent performance, yes, but they also must be able to do so in highly demanding environments.
From temperature changes to the presence of potentially harmful substances, there is a need for an adequate architecture.
Due to these circumstances, ESA Automation has designed robust and compact IPC boxes, that are made of high quality materials. But not only that.
Like the rest of the Esaware line of solutions for industrial automation, these devices introduce some very useful innovations. For example, the Heat-Pipe heat dissipation system, thanks to which you can integrate CPUs up to Intel® Core ™ i7 quad core, even though it is a fanless products.
Yet, you can get even more benefits in your production facility. How? By choosing to integrate the box IPC and industrial monitor line produced by ESA Automation.
In fact, the EW300 industrial monitors add even more advantages and are the ideal tool to view and control the production applications in an intuitive and immediate way.
The Esaware range offers a wide choice of monitors with 16: 9 wide screen LCD and capacitive or resistive touch screen. This not only makes the user's work faster and more intuitive, but it also increases by more than 40% the horizontal axis of the display surface.
Esaware Box IPC + industrial monitor: all the features of the complete solution
The complete solution of Esaware box IPCs and industrial monitors offers a set of really unique and innovative features. That's why it is the perfect choice for any manufacturing facility.
In particular, the ESA Automation EW400 series of box IPCs offers:
Fanless and rugged design for applications in harsh environments.
Innovative thermal dissipation system, which guarantees stable and optimal performances even in high temperature environments without causing CPU throttling.
Operating temperature between -20 and + 60 ° C.
CPU up to i7 quad core.
USB 3.0 Expansion, CFast, PCIe / PCI.
And with the integration box IPC + industrial monitor, you can also use these features:
LCD wide screen.
Video input variety.
Capacitive or resistive touch screen.
In conclusion, a 360 degrees solution: from the display and control of your applications to the stability and quality of your performance. All integrated to perfection, according to the connectivity principles of the Internet of Things with which ESA Automation has developed its line Esaware.