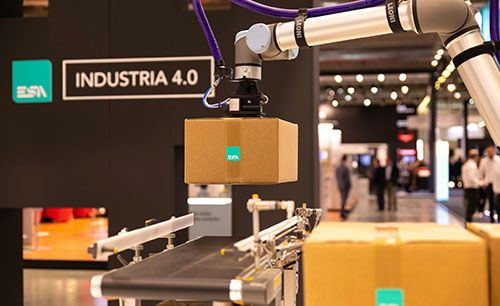 Quale sarà il ruolo dei robot collaborativi, o cobot, nell'Industria 4.0? Nell'era della Smart Factory e dell'IoT, questa nuova tecnologia sembra trovare la sua perfetta collocazione. A suggerirlo sono le ultime ricerche di mercato, che prevedono un aumento rilevante nella vendita dei cobot nel corso dei prossimi anni.
Di recente, la stessa ESA ha presentato una soluzione per il monitoraggio e il controllo di un cobot. Continua a leggere per saperne di più.
Benefici dei cobot per l'industria
Cosa sono i cobot? Sono robot collaborativi, ovvero progettati per collaborare con l'operatore umano. Mentre un robot industriale tradizionale è programmato per completare un compito specifico e predefinito entro uno spazio di lavoro fisico, un cobot è concepito per interagire e collaborare con l'uomo in uno spazio di lavoro condiviso.
Si tratta dunque di una tecnologia perfettamente in linea con i principi dell'Industria 4.0, che contribuisce alla produzione intelligente sotto diversi punti di vista. Specialmente:
Interoperabilità e Internet of Things: I cobot sono in grado di interagire e funzionare facilmente con altri dispositivi e sistemi, in qualsiasi ambiente di fabbrica.
Big Data: Attraverso la loro capacità di raccogliere dati e trasmetterli ad altri sistemi, promuovono il flusso di grandi volumi di informazioni trasparenti.
Semplicità di utilizzo: Grazie alla loro interfaccia interattiva (display, ecc.), i cobot sono particolarmente intuitivi e facili da utilizzare. Inoltre, facilitano anche le decisioni decentrate, o orizzontali.
Produttività: Aumentando l'efficienza dei processi, i cobot permettono di massimizzare la produttività dell'impianto industriale.
Di fronte a questi vantaggi, non stupisce che l'utilizzo dei cobot nell'Industria 4.0 sia un trend in crescita. Già il World Robotics Report 2017 dell'International Federation of Robotics (IFR) aveva previsto un incremento medio del +15%/anno, per un totale di 3 milioni di robot operativi al 2020. Mentre secondo il report Collaborative Robots Market, il mercato dei cobot raggiungerà 4,28 miliardi di dollari, con un tasso annuo di crescita composto del 56,94%.
Soluzione ESA per cobot
Per la cella esposta durante SPS Italia 2019, abbiamo realizzato un'applicazione per il monitoraggio e il controllo di un cobot serie UR, che visualizza la posizione del robot sui 3 assi X,Y,Z in termini di coordinate assolute, coordinate angolari relative e velocità di spostamento.
In questa soluzione, l'HMI ESA (o PC industriale) si interfaccia con il controllo del robot collaborativo tramite il protocollo Modbus TCP, disponibile nel nostro software SCADA Crew. Grazie allo spazio di indirizzamento dei registri e ai codici funzione Modbus supportati, è possibile accedere sia in lettura sia in scrittura a tutti i dati e ai registri di stato e di comando disponibili sul controllo.
Abbiamo poi inserito dei pulsanti di comando che permettono di eseguire lo start/stop del robot e di metterlo in modalità "service". Questo è molto utile per il controllo manuale del pezzo che viene arriva all'operatore con i motori non in coppia. In questo modo, l'operatore è infatti in grado di muovere liberamente il pezzo, controllarlo e poi ridare lo start del ciclo automatico.