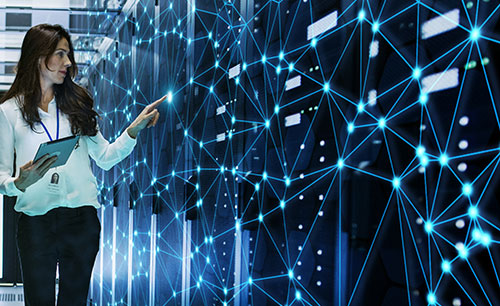 The complexity of smart production systems generates new challenges in the industrial sector. In particular, the ever growing flow of data circulating in the Smart Factory requires rally efficient Big Data management systems.
In the factory of the future, production systems no longer follow a hierarchical structure. In fact, they are heterogeneous and flexible ecosystems, in which devices interact with each other in unified networks and with an event-based communication. System interconnectivity is fundamental to facilitate this communication.
The importance of big data management in industry
The Internet of Things has become a market reality, where devices interact and collaborate autonomously, thus creating intelligent production systems. It is one of the principles of Industry 4.0 and it's essential to support today's production.
Although this tech evolution unlocks endless possibilities, it also increases the complexity of production, creating new challenges and necessities that require innovative approaches. One of the key challenges  is analyzing those systems that continuously generate huge amounts of data, including useful information for various purposes (diagnosis, forecasting, optimization, etc.).
Therefore, we need to optimize Big Data management in Smart Factories, by making sure that companies are ready to effectively and efficiently manage the increasing volumes of sensitive data. At the same time, we need to pay close attention to the risk of cyber attacks.
How? Through the integration of IoT, Big Data and Cloud. Data are collected and made accessible on dedicated Clouds, so that it can be processed and exchanged at any time by smart devices. This generates distributed intelligence based on decentralized information that makes the production process more efficient, faster and more interconnected.
The ESA Cloud for big data management
As mentioned, Cloud architecture is essential for efficient Big Data management. This is why ESA has created its own Cloud service: a solution that allows access to the data and devices of a production plant at any time and from anywhere.
Thanks to its open and flexible architecture, ESA Cloud enables immediate access to the data on the plant, allowing you to view all HTML5 content from browser and connect multiple systems. All this thanks to the integration of the MQTT protocol, a light protocol that allows devices to efficiently and asynchronously communicate with remote systems.
These conditions contribute to efficient Big Data management in the Smart Factory, with multiple benefits for companies. Including less machine downtime and approximately +25% annual productivity.
Find out more about the ESA software solutions for Smart Factory