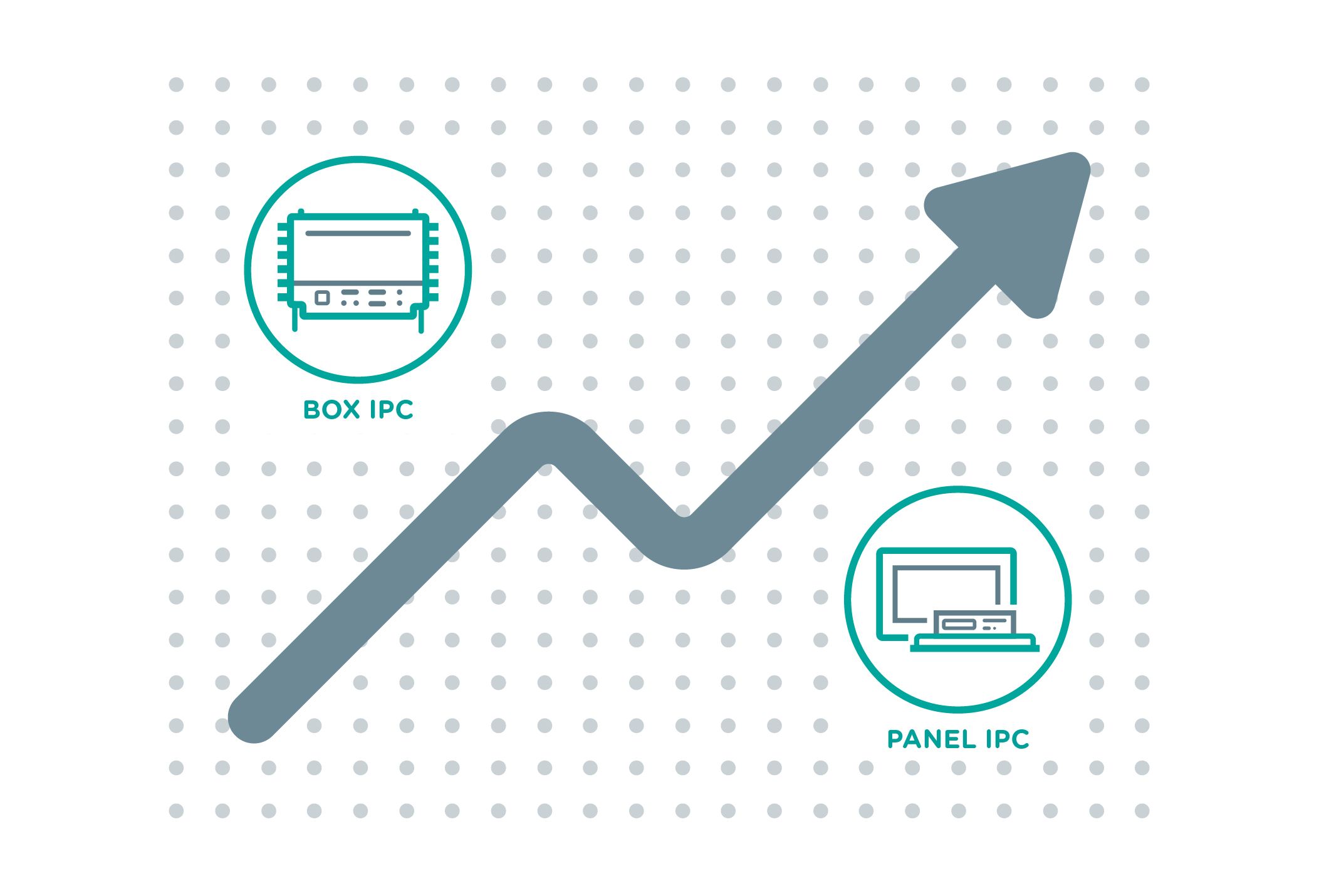 The Industry 4.0 has pointed out and introduced new principles, like the IoT, and necessities that have shaken the dynamics of the entire sector, including the industrial Pcs market.
New technological trends have emerged and most of all a transformation process has begun, which is destined to change the face of industry and of industrial automation.
Industrial Pcs today: solutions and technologies
Although the industrial PCs market has gone through highs and lows (like any other market), going towards 2020 a steady growth is expected, and it's safe to assume that this will bring a good injection of investments in the innovation of this technology. [Source Business Wire]
Today, the offer is segmented into several products, first of all between Panel PCs and Box PCs. Both are widely used in industry due to their ability to withstand working environments with hostile conditions, which are typical in the industrial field.
One of the main trends depends on a very significant change in the Industry 4.0: the increase of data circulation within production facilities. This lead to the need for a storage and management technology with high density and speed, at a reasonable cost. Hence the emerging trend of adopting SSD units instead of traditional HDDs.
But that is not all. Today, in industry there is a growing need to have safer and more efficient systems and production environments. We need industrial PCs capable to support and optimize both the work of the operators and the production process.
How? For example, through easier visualization and control in the production plant and in any condition. Like the Esaware Panel IPCs by ESA Automation.
Furthermore, it is necessary to introduce safety measures in order to protect industrial facilities from cyber-attacks, like the encrypted TSL 1.2 protocol used by ESA Automation.
However, the most prominent trend concerns connectivity and the Internet of Things. Today, industrial computers must be able to communicate on their own among themselves and with the system, through the network. This is why new technologies have been introduced, such as Ethernet connectivity (Atom dual core and Fan I-Core™), or SDRAM with DDR3 instead of DDR2.
The industrial PCs market: the future has already begun?
The current interconnectivity of industrial PCs is just the tip of the iceberg of the industrial evolution. However, the trends seen so far are important indicators of what's about to come.
Like in the case of another important trend that has established itself in recent years in the industrial PCs market. Which is to follow the innovations of the consumer market: from user-friendly solutions to integration with portable devices such as smartphones and tablets.
Efficiency of costs, time and resources, process sustainability and optimization, data accessibility, and greater integration between systems. These are the future goals of industrial automation.
Do you want to find out more about Esaware Industrial PCs? Follow our blog to be always updated on the most innovative solutions for industrial automation.